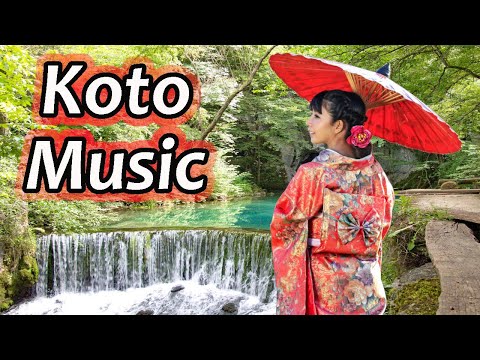 Sit back & drift away listening to the healing sounds of Japanese Koto (箏) music - 432 Hz. This beautiful music is great for study, sleep, relaxation & meditation. It is also perfect for playing in the background during yoga or pilates. Japanese Koto music is extremely calming & peaceful to listen to. The music has a very beautiful oriental sound & is great for clearing the mind of negative thought patterns.

The sounds of Japanese Koto music have been combined with the gentle sounds of moving water. The water sounds really help to enhance the peaceful nature of this music. I have also added many beautiful pictures of waterfalls & streams to complement this peaceful combination.

The healing sounds of Japanese Koto (箏) music, have been tuned to the frequency 432 Hz. The frequency is sometimes referred to as the "Miracle Tone", It is great for self-healing & helps to generate feelings of inner peace & well-being within the listener.
The Koto (箏) is a traditional Japanese musical instrument. The Koto originally derived from the Chinese zheng. However, due to its popularity, it later became the national instrument of Japan & is now sometimes referred to as the Japanese Harp. If you would like to learn more about the Koto (箏), please click the link below:
https://en.wikipedia.org/wiki/Koto_(instrument)
This Koto Music has been adapted & remixed from the following source: