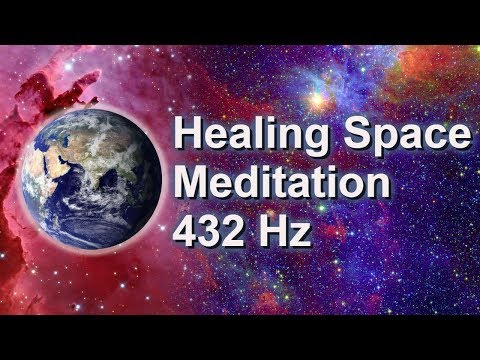 This relaxing space soundscape music for healing meditation & relaxation is extremely soothing. The space music has been tuned to the frequency of 432 Hz, with an additional undertone added to increase its healing effect. The healing tone of 432 Hz is often referred to as the 'Miracle Tone' as it has a profound positive influence on the listener, helping them to clear their mind of negative thinking, while at the same time increasing their positive vibrations, allowing the listener to replace their negative thoughts with positive ones instead. This healing space music also has a lot of really cool pictures & visualizations of planets & galaxies added throughout the video.

The beautiful space soundscape music is just over 2 hours long, so you have plenty of time to relax, let go & take yourself on an interstellar journey into the far reaches of space, forget the real world for a moment and let yourself drift into a gentle daydream as you move between planets, stars, galaxies & solar systems. Travel through space & time, exploring an infinite reality that never ends. Let the infinity of your consciousness mind-meld with the infinity of space, let go of all your unwanted negative thoughts & set your mind free. Liberate your way of thinking as you drift deeper & deeper into this beautiful space music for healing meditation.
Thanks for taking the time to listen to my video '
🎧 Space Soundscape Music for Healing Meditation - 432 Hz
'. I hope you have enjoyed listening to this beautiful space music. If you like this video, make sure to add this page to your favorites. If you would like to follow me on my YouTube Channel:
Peaceful Vibes
, then make sure to
subscribe
& click the 'Bell' icon to receive notifications when I upload something new.